What is IT infrastructure?
Information technology infrastructure can be defined as the resources required to operate and manage an organization's software, hardware, network services, and IT environment. IT infrastructure development is usually an internal aspect of the organization. It enables it to provide IT infrastructure solutions and services to its customers, partners, and employees smoothly and hassle-free.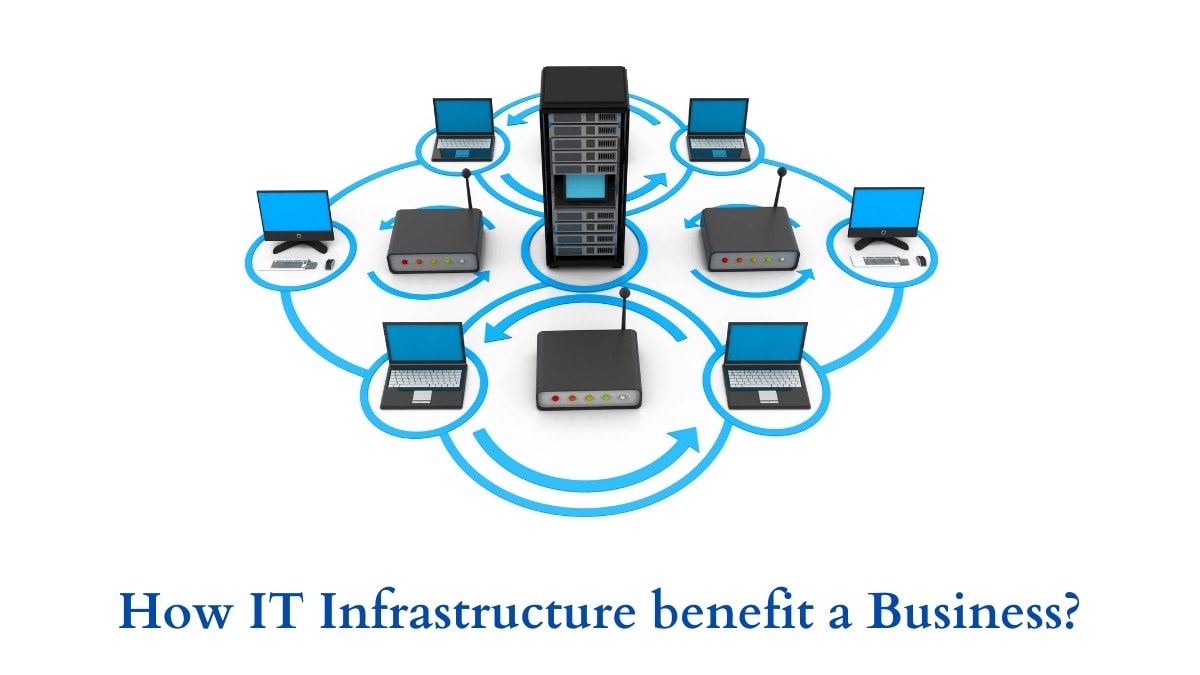 What are the three essential components of IT infrastructure for business?
Hardware
The hardware consists of the hardware components of the IT infrastructure, such as personal computers, data centers, switches, servers, routers, and all other equipment required to support the operation of devices and machines in the IT infrastructure. In addition, the facilities used to house, operate and cool the data center can also be considered part of the IT infrastructure.
Programming
Software refers to all the company's applications to provide services to customers and for internal performance. These include web servers, operating systems (OS), content management systems, enterprise resource planning, productivity applications, etc. The operating system is the essential software that manages the hardware and connects the physical resources to the network ecosystem.
Network
Interconnected network components are required to establish external and internal connections between all equipment and parts of the IT infrastructure. In other words, a network contains all the software and hardware components needed to enable security, connect to the Internet, allows a network, and promote a firewall. So it significantly reduces the risk of data theft by ensuring that authorized employees have access to data transmitted and stored only through pre-determined and strictly monitored access points.
What are the seven areas of IT infrastructure?
Let's take a look at seven areas of IT infrastructure
User domain
As with the name, the user domain includes all end users who have access to the information within the organization.
Workstation area
Workstation domains include all devices, including computers used by end-users. It shows the way end-users interact with IT infrastructure.
LAN Domain
The LAN domain includes all components that make up the local area network, such as routers, hubs, workstations, Wi-Fi, switches, and access points.
WAN Domain
A Wide Area Network is a system that connects all devices over long distances. It has both semi-private lines and the Internet.
LAN-to-WAN domain
The LAN-to-WAN domain refers to the boundary where the LAN connects to the WAN (Internet). A firewall separates LAN and WAN areas.
Remote access domain
In remote access, a mobile user, such as a contractor, vendor, or employee, works remotely (without staying in the office) and accesses the company's local area network remotely with the assistance of a VPN.
System/application domain
The system/application domain denotes the applications and technologies used to run the business. In addition, it contains user-accessible servers such as databases and emails.
What is IT Infrastructure Management?
IT infrastructure management is the management of operational and technical components of IT infrastructure, like data, hardware, software, processes, policies, equipment, and facilities used to enhance business effectiveness. Due to its complexity, IT infrastructure management is further classified as Systems Management, Storage Management, and Network Management.
What is the job of IT infrastructure management?
By lining up IT infrastructure management with business strategy, you can use technology to create value for the entire organization. Instead of managing each line of business individually, you can combine the management of all the various IT facilities, storage, applications, servers, security systems, and networks.
The best IT infrastructure management services aim to gain control and structure for the processes and functions responsible for various technical operations in both physical and virtual environments. In addition, it helps reduce duplication of effort, increase information flow, ensure compliance with industry regulations, reduce overall IT costs, increase business productivity, and reduce downtime.
What are the benefits of managed IT infrastructure services?
IT infrastructure management offers several benefits to businesses:
Performance Boost
IT management involves monitoring systems and networks that lead to higher performance and reduce the likelihood of errors and outages. This concept allows for the early detection of system vulnerabilities and eliminates technical limitations, thus reducing downtime.
Increase productivity
By investing in technology to improve your IT infrastructure, you can ensure productivity growth for your business. IT infrastructure management outsourcing helps automate and simplify regular and critical processes and saves technicians time to focus on more strategic activities.
Flexibility and fitness
Effective IT management solutions allow you to use a holistic view of your computer environment, including cloud and virtual infrastructure and business flexibility.
Improve staff and customer experience
With the appropriate IT management tools, you can always be aware of the state of your IT environment and create a better and more meaningful experience for your employees and customers. In addition, you can remove any unexpected downtime and prepare end-users in advance for any scheduled downtime for maintenance purposes.
Cost savings
Setting up your IT infrastructure allows you to anticipate and deal with any disaster before it escalates. With this energetic approach of IT infrastructure solutions provider, you can significantly reduce downtime, reduce disasters, and save a lot of money by avoiding unforeseen expenses.
What are the challenges in managing IT infrastructure?
While IT management is vital for all businesses, IT professionals face many challenges in efficiently optimizing their IT infrastructure. Let's consider some of the most common IT infrastructure management challenges:
Outdated systems and technologies
Due to the rapid development of technology, systems become obsolete very quickly. Because of this, you need to keep your system updated with the latest technological advances in the industry. Frequent upgrades of your hardware and software will help you increase productivity and efficiency and gain a competitive advantage over your peers.
Disruption of network and communication
Other significant challenges in IT management include faulty networks and poor connectivity issues. Therefore, it is crucial to constantly monitor network performance and focus on improving connectivity in the digital age. This idea will help keep your infrastructure management consistent in the modern era where customers are demanding more than ever, and you need to be at the forefront of your services to compete with your peers.
Data editing, storage, and management issues
In this digital age, data collection and editing have become more accessible, leading to an explosion of data volume. As a result, managing this large amount of data has become a significant challenge for businesses. In addition, losing data due to inadequate storage capabilities, including inefficient management, can be very costly for companies. Therefore, it is vital to devise a strategy that includes the need for more data storage and better data management.
Expansion restrictions
Scalability is one of the main concerns of companies aiming for effective IT management. Companies usually require IT scaling, but over-consumption can lead to a lot of waste if under-utilized. Therefore, you need to integrate with scalable infrastructure monitoring software to ensure your system is ready to adapt and acknowledge your evolving needs.
What are the best practices for managing IT infrastructure?
A well-functioning and efficient IT infrastructure is key to building a successful business in the digital age. Here is a catalog of best practices for improving IT infrastructure management:
Gathering knowledge and evaluating infrastructure
The initial step towards effective IT infrastructure management is to gather as much information as possible about the process and how it works for your business. One of the best ways to learn from experience and apply your knowledge to decide what your business needs and doesn't need is to develop relevant information.
Set up clear standards and goals
Based on the knowledge gained in the first step, you can create management and operational standards. To suit your unique business needs, you need to customize the configuration and standards (such as safety standards). In addition to establishing these standards, it is also essential to ensure their consistent implementation.
Observe frequently
Constantly monitoring management and operating standards is an effective way to ensure it works for your business. This concept enables you to actively respond to and resolve system and network issues as they arise and prevent any unplanned outages.
Accurately document and communicate.
While many companies neglect to document their business IT infrastructure management configurations and standards, this is as important a step as any other best practice. You should keep thorough documentation of your IT infrastructure management process so that new IT professionals can join the service and speed up the process quickly and efficiently.